3CX Business Telephone System Hosting and Installation
Dominion Telecom is proud to offer the 3CX business VoIP telephone system (PBX). The 3CX PBX is a flexible software based phone system that can be deployed on-premise or as a complete cloud based, hosted solution. Our engineering team has deployed hundreds of 3CX systems and our experience combined with unparalleled 3CX flexibility allows for a complete deployment in a matter of days, not weeks.
Get more for less with 3CX and Dominion Telecom. Contact us today!
Flexible Deployment Options

Choose how you would like to engage with Dominion Telecom and maximize value with the following flexible deployment options: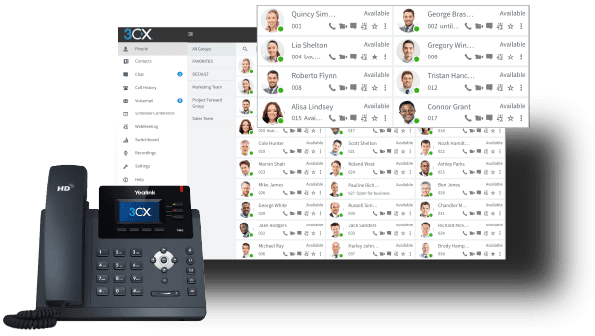 Turn-key managed 3CX hosted PBX

- Dominion Telecom manages all aspects of your 3CX hosted PBX telephone system including licensing, hosting, deployment, configuration, backup, updates, carrier management, and ongoing feature deployment and optimization for a low, flat rate. This is our most popular option and allows you to focus on what's important, your business! Take immediate advantage of 3CX features and savings without lifting a finger.

Assisted deployment and management

- Dominion Telecom's professional services team augments your staff to get you started in the right direction and does as much or as little of the heavy lifting as you would like us to do. This ensures a correct and efficient deployment and is a fantastic option for companies that have their own IT staff or simply want to manage their own phone system.


Self installed and self managed

- Dominion Telecom offers 3CX phone system licensing as well as 3CX hosting for companies that are comfortable installing and managing their own 3CX PBX. 3CX licensing and 3CX hosting are purchased as an annual subscription and may be purchased independently of each other or as a package. In fact, your first year of standard licensing and hosting is FREE! Simply register here to begin configuring your cloud based 3CX phone system! Keep in mind that our professional services team is always available for hourly service engagements to assist you at any time.